Company Overview
Incom Systems was founded in 1991 and is based in Ossett, West Yorkshire, we have been working within the care industry for over 30 years. Since then, we have established ourselves as one of the UK's leading independent forces in the communications industry.
We work with a large number of care providers, local authorities and housing associations, supplying, installing and maintaining the following systems. Emergency Call systems, Access Control and Door Entry systems, DECT phone systems CCTV & IOT Devices. We have recently partnered with Vayyar to be their companion company introducing there Fall Detection & Prevention System in England. Our skill as system integrators makes this an ideal union. We have a UK wide network of highly trained, experienced and motivated sales, technical support and both installation and field service engineers to support our new and existing customers. Our customers benefit from the use of innovative and state of the art technology to provide communications and monitoring systems that are second to none. We operate a support response team 365 days a year 24/7 so you are always in safe hands. We are first and foremost a company founded by an engineer and to this day run by engineers. We have worked with all the major manufacturers over the years refining and integrating their solutions within a working environment, to provide a joined-up solution for the end user. We are an accredited CHAS contractor and also carry affiliations to SSAIB, ECA (Electrical Contractors Association), Safe Contactor & Constructionline. We are a TSA member actively promoting TEC (Tec Enabled Care). We are a caring company and strive to form effective partnerships with our customers. We ensure that we form these partnerships by adhering to our customer care policies and the standards of conduct expected from all our representatives. We don't just see customers as the paying client, but also the residents, patients, end users, in fact everyone affected by the delivery of our services. All these people are stake holders in the solutions Incom Systems implement.
Possum Product Overview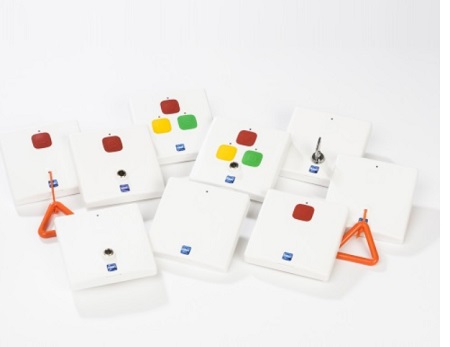 The Possum Nursecall system is a highly flexible and adaptable solution for any care environment.
Simple to use
Wireless based
Fast installation
Adaptable and flexible
Protects staff and residents
Works with a full range of Assisted Technology Devices
The primary selection of the various call points are powered by battery, eliminating the need for expensive and invasive re cabling to be undertaken.
Battery life is approximately 2 years using standard off the shelf AAA alkaline batteries and significantly longer if you chose to use off the shelf AAA lithium batteries. In built battery monitoring algorithms will alert you in plenty of time once the battery voltage begins to drop and the batteries need replacing.
Batteries in the call points are easy to change and can be undertaken by any reasonably competent person, thereby eliminating the need to call an engineer out to undertake a simple task.
At the heart of the system lies the radio repeaters and the radio pagers. Powerful radio repeaters (which do require mains power) will ensure that every part of your building including the grounds can be successfully covered.
The radio pagers are small and discrete and will identify the source and type of call by way of audible, vibration and visual alerts on the colour screen. There is also an emergency assistance button on the pager that staff can activate if they are in a challenging situation and if used with our RFID field technology emitters, will give the location of that member of staff who needs assistance.
The pagers use a rechargeable battery that give up to 5 days standby duration and recharging them is as simple as dropping the pager into a dedicated charger dock as and when required.
As previously mentioned, the Possum system can also utilise RFID field technology for the purposes of staff protection or to alert if service users with dementia are moving out of their safe area.
A touchscreen Nursecall logger can be supplied which will record all activity from the call points and sensors linked Possum system. The data can be then exported in a CSV format or automatically emailed to a designated person for audit and recording purposes.
Third party systems (such as fire alarms, door concierge stations) and devices can also be linked to the system via the hardwired input on the call points if required.
As well as the various styles of fixed radio call points, the Possum Nursecall system can also accept a very wide range of additional assistive technology devices such as:
Radio Pendants
Fall Detectors (body worn or fixed position radar sensors)
Bed / Chair Occupancy sensors (which can significantly reduce the occurrence of falls)
Door/ Window sensors
Flood sensors
Epilepsy sensors (body worn and chair / bed versions)
Jelly Bean buttons for those with limited manual dexterity
Icom's Vayyar and Possum system are fully integrated, alerts from the Vayyar system can be received via the Possum Information pager
Product Videos