Company Overview
Tunstall provides a range of Technology Enabled Care solutions based on 60+ years of innovation and expertise. Our digital and person-centred solutions combine future-proof technology, secure connectivity and reliable 24/7 monitoring.
We operate in 22 countries and support 5m+ end users through our technology and service offerings. We support this with a major innovation, development and manufacturing. Our head office supports 650+ employees, with a national spread of sales, service and installation personnel enabling us to offer a comprehensive service 24/7. Our core services include:
Telecare
Telehealth and lifestyle monitoring
Warden call, access control and door entry equipment, personal and home reassurance systems
Social alarms monitoring including:
Managed service delivery
Social alarms monitoring including:

Tunstall Services Platform (TSP) (PNC call monitoring software)

Tunstall Response call handling, disaster recovery and out of hours repairs monitoring services

Installation, support and maintenance
Tunstall CareCom – Product Overview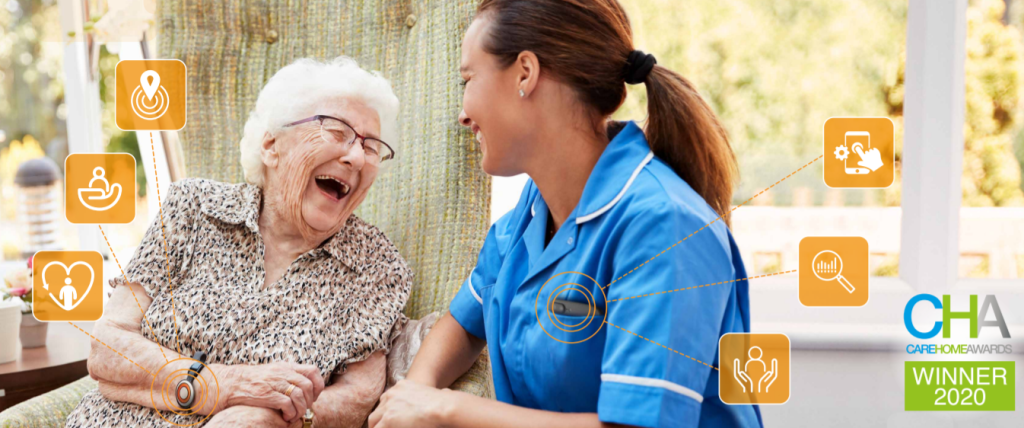 Carecom is a wireless nurse call system using digital technology to enable care to be tailored to the individual, ensuring the delivery of care is more efficient, flexible and responsive. The system moves beyond traditional, fixed call points to a wireless system better suited to the demands of modern care delivery, allowing care to become person-centred, rather than room centred. It enables care to be delivered where and when it is needed most, alerting staff not just to events, but letting them know the nature of the event (e.g. fall, seizure, exit from a room or property), who needs assistance and their location. Receivers and beacons are placed around the building, which interact with smart pendants worn by residents. Caregivers are able to manage the system using a mobile phone app. features.
Fully standards-compliant
Digital and future-proofed allowing for integration with other solutions
On-site location management
Geofencing to ensure the safety of disorientated users
Simple one-button, smart alarm pendant
Mobile alarms with intelligent call routing
Alarm receiver, staff alarm and work registration on the same unit
Alarms can be cancelled at the location of the activation
System supports a wide array of telecare sensors
Intuitive, GDPR compliant online reporting platform. Benefits
Enables rapid response to events and efficient care delivery.
IP infrastructure means the system is flexible and scalable so it can grow with the needs of your care home and your residents.
Enables person-centred care using tailored telecare solutions.
Modular, flexible system with continuous software updates to support new functionality.
All-in-one solution gives an overview of systems across complete estates accessible anytime and anywhere via an internet browser
Detailed reporting and analysis for care optimisation
Early detection of changes in the residents' behaviour (e.g. increasing alarm calls) supports proactive care
High degree of security and freedom for people with dementia
Frees up carer time for more meaningful interaction
Indicative Costs
As a guide price and dependant on the client's needs, we would envisage a Carecom system to start at around £15k per site.