Company Overview
Solcom Limited created Whzan Digital Health to deliver applications which lower risk of health deterioration and raise safety, proven to keep people in the place they call home for longer. We provide a suite of digital health tools supporting people in their homes and in residential, nursing, LD and MH care homes. All Whzan systems link to a cloud platform which is interoperable with multiple local authority and NHS electronic patient records systems. Whzan is in extensive use across the UK with NHS and Council (social care) organisations.
Product Overview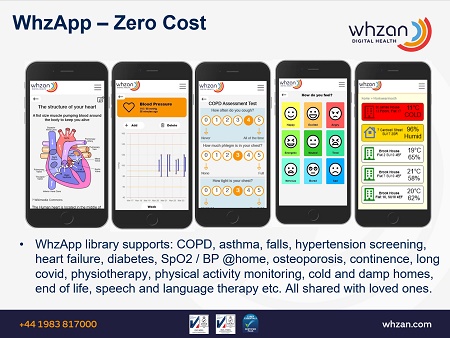 WhzApp is our multi-disciplinary monitoring application connecting GPs with patients to monitor conditions remotely, and deliver key information and care advice. It is a free to use application linked to the Whzan dashboard. WhzApp is an information hub, self-assessment and communication tool, and vital signs log fully customizable for each patient, so they only see information relevant to them. Our expanding library supports COPD, asthma, falls, hypertension screening, heart failure, diabetes, SpO2/BP @Home, mental health, maternity, osteoporosis, childhood continence, long COVID, adult speech and language therapy, physiotherapy, cold and damp homes and more. WhzApp can be used to share health and activity data with a pool of family and friends to create an informal care network.
Indicative Costs
WhzApp is completely free to use, including the development of new features.