Company Overview
Solcom Limited created Whzan Digital Health to deliver applications which lower risk of health deterioration and raise safety, proven to keep people in the place they call home for longer. We provide a suite of digital health tools supporting people in their homes and in residential, nursing, LD and MH care homes. All Whzan systems link to a cloud platform which is interoperable with multiple local authority and NHS electronic patient records systems. Whzan is in extensive use across the UK with NHS and Council (social care) organisations.
Product Overview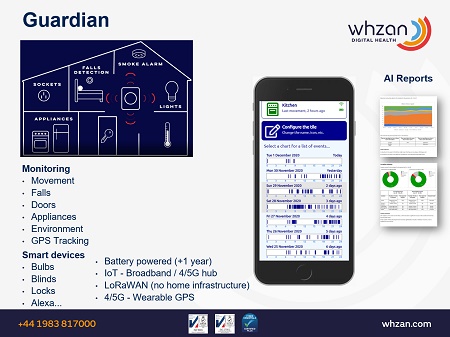 Guardian is a traditional IoT system using software and generic hardware devices proven to help individuals maintain independence. The system works by identifying patterns of behaviour together with multiple sensors to detect movement, open doors and windows, appliances, environmental conditions, hydration, nutrition, fire and smoke, falls, presence etc. The system is interoperable with various GPS devices to track external movement, which is of particular help for those with dementia and enables care providers to track lone workers. Residents and carers are able to configure the activity they wish to monitor and share that information with their care network through the Guardian App.
A commonplace installation uses 6 sensors or more, connected to a Wi-Fi or 4/5G hub, but this can be simply tailored to the specific needs of the home with more or less equipment. We supply low-cost generic devices such as smart gateway, door/window sensors, PIR, temperature & humidity sensors, water leakage sensors, smoke sensors, smart carbon monoxide sensor, UK type smart plug, indoor siren, emergency button, radar movement, zone occupancy and falls detector. If you require additional sensors from other suppliers or wish to use existing hardware, we will integrate it at zero cost.
Our system will link to Wi-Fi, 4/5G or LoRaWAN. The home sensors' data interfaces with monitoring desks, housing or care providers, plus an informal care network of "loved ones". These are very close members of family or friends who receive the data and are able to respond quickly to alerts, to monitor the daily activity of a person in their home. Guardian users set their own alerts, for example is the person using electrical appliances, such as a kettle or when the fridge door opens and closes? In other words, are they eating and drinking? Similarly, safety can be monitored through ensuring doors and windows are closed and Alexa is used to provide spoken reminders, such as "Mum come back inside, its late". Automations can also be set, for example, if there is movement in the lounge, turn the lamp on. We have recently integrated a radar-based movement, multi zone presence (i.e., to define beds, chairs etc) and falls detector. This negates the requirement for falls pendants, pull strings and pressure pad presence sensors.
Guardian has multiple applications and can be used in multi occupancy buildings, enabling remote monitoring. For example it can be used to monitor fire door status in housing association buildings or with its radar movement, zone occupancy and falls detector Guardian is also suitable for monitoring bedrooms in care homes at night. The latter providing a real time view of who is in bed, moving around, in a chair or on the floor. The Guardian App can be used like a pager. The comprehensive reporting function, including reports of location, consumption, activity and medication tracking, keeps care professionals updated on a resident's situation – allowing them to deliver necessary personalised care.
The data for the informal care network is available by the Guardian App working on any smart device. Users that have permission to share the resident's data can form a caring pool (family and friends) to share the care duty, identify when they are available and make their own ruleset for alerts and actions. The impact upon the customer is better management for the level of care required and tailored resourcing. Home visits are reduced to when they are needed and not just to "check-up". Care home admissions are deferred leading to substantial savings. The system is capable of identifying people who need very little support and others who require additional visits and support. Residents have reported they feel very comfortable knowing their activity is being monitored and they feel safer at home knowing someone will be able to help should they need it. They also reported they felt they had more freedom and did not have to stay at home waiting for a routine visit from the property or care provider.
Indicative Costs
GSM 4G Hub + 6 Sensors + SIM – £300 (excluding VAT)
Wi-Fi Hub + 6 Sensors – £200 (excluding VAT)
Guardian Sensors range between – £20-£30 (excluding VAT)
Annual Whzan Guardian Subscription, per Guardian Kit – £72 (excluding VAT)