Company Overview
Started in 1987 Secure Meters has grown to now having our services and products deployed in over 50
Countries, employing more than 6,500 people with bases in India, Australia, UK, Malaysia, and Sweden.
We manufacture high quality technology products in our world class production facilities, which are certified for BIS, STQC and S-Mark standards. We are also OFGEM and MID approved for the manufacture and supply of Gas and Electricity productsacross Europe and the UK.
Our data centres collect and assimilate data for more than 6.5 million customers from products that we have
manufactured and deployed into several Countries. In the UK the system for data collection was put in place
in 2013, from 2016 the number of devices we collect data from has been growing at 1 million per year.
Secure operates B2B and already works with and supplies to other businesses for the benefit of the end user. We work with the UK's Energy suppliers, Local Authorities, Housing associations and vast array of different types of businesses large and small.
Company Vision
'To be an enduring business that grows from profit earned fairly from product and services that help users save, reduce energy and live in comfort'.
Product Overview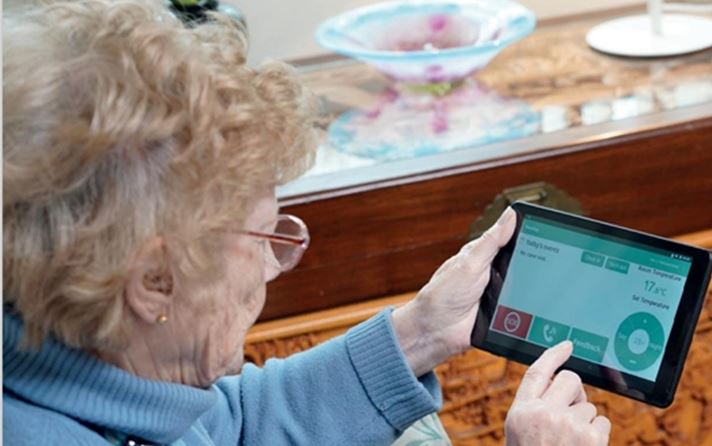 Beanbag Care offers a E Rostering (scheduling & monitoring) system for Domiciliary Care Providers. This element of Beanbag care is suitable for Home Care Providers who are looking for a complete E Rostering system (who don't have a digital system now) and Home Care Providers who have E Rostering but want to collect feedback to monitor the 'quality' of their care. Beanbag Care can integrate with other systems.

Beanbag Care scheduling & monitoring includes a Quality control element, whereby feedback from the service (& / or family) allows the Home Care
Provider to build up a picture of how good the service they are delivering is. They know which carer is going the extra mile and perhaps who needs help. All useful information for CQC auditing purposes.
Having both a tablet (hardware) and software the Home Care Provider can communicate with both the carers out in the field and with the service user in
their home. The Home Care Provider can send messages to the carer(s) on the App. Messages can also be sent to the service users – mass messages or
individual messages. The tablet can also be used for virtual calls via the VoIP feature, which the service user can also use to contact family and friends.
Scheduling
Our scheduling tool provides the care provider the ability to create, manage and coordinate service users, care requirements and their staff / carers.
This includes the ability to amend or cancel scheduled visits along with specific matching of service user requirements with carer skills.
Monitoring
Our monitoring tool will monitor the following areas: For the care provider:
• Date and time of care worker arrival (Log in)
• Date and time of care worker departure (Log out)
• Actual time spent providing care
• Commissioned v scheduled v available hours
• Location assured service user ID and care worker ID
• Tasks completed
• Monthly carer performance
• Exception based notification of late care worker arrival
Features:
Planning
Care delivery
Monitoring
Reporting & Finance
Quality Feedback Mechanism
As an added benefit, built into our service there is a facility whereby the service user(s) are given the opportunity to give feedback on the quality of the care they receive using their Tablet. They are prompted for feedback following care visits but can also provide feedback at any time they choose.
If they are unable to give feedback for whatever reason family members are also able to provide feedback via an App. This facility can help all homecare businesses to deliver a better business model, improve service user
satisfaction, and promptly deal with potential complaints.
For the Care provider the service adds value by covering criteria asked for by CQC, for example keeping the service user 'safe' with the functions available on the tablet, there is an SOS button in the event of an emergency.
Additionally, by being able to see the notes and feedback the Care provider would be able to spot any changes in the service user, medical or other wise and act swiftly, showing caring and responsive, concentrating on the service user's individual needs.
Beanbag Care
Developed by Secure Meters, Beanbag Care is an innovative suite of smart, independent living solutions that are designed to deliver a range of benefits to local authorities, home care providers, extra sheltered housing providers and their customers.
Drawing on Secure Meters' heritage for property technology excellence, Beanbag Care is a technology enabled care solution designed to provide better quality care at the same cost, so that people can live in their own homes for longer, safer and with greater independence.
Beanbag Care increases the quality and efficiency of care by giving home care provides remote access to real-time, granulated data on the welfare and satisfaction of their customers or residents. It achieves this by combining the power of web connected home sensors with smart, automated decision-making capabilities.
Beanbag Platform
Beanbag Care services utilise a smart home system of sensors and communication products. The system can be configured according to the service user requirements providing flexibility and scalability. At the heart of the system is a Gateway – this unit provides a wireless link to all the in-home sensors, assimilates data and communicates to the cloud via broadband or GSM. The range of sensors includes motion detectors, pressure sensors, combined temperature & humidity sensors, CO sensors and door sensors.
There is a tablet with an option to wall mount or place in a free-standing holder – this is used to display useful information and provide video calling; it also includes an SOS button. Everything is intended for simple one touch use and was developed with input from older service users. To ensure privacy
there are NO cameras or listening devices.
Support
Secure provides a full package of support that can be tailored to the needs of the care provider or the service user.
• Initial system set up
• Installation & maintenance of in-home devices
• 24/7 contact centre (for alerts or SOS calls)
• Technical help line
• Training
• 24/7 monitoring of installed devices
Beanbag Care Vision
'To provide better quality care at the same cost, so that people can live in their own home for longer, safer and with greater independence'
Indicative Costs
Beanbag Care covers a range of services and equipment, which can address many of the categories defined within the East Riding of Yorkshire Social Care Innovation Programme. These services can be provided individually or as a complete package with prices starting from £1 per service user per week. Please contact us to get a detailed quotation based on your specific requirements.
Product Videos