Company Overview
Qintil was built for social care. Our platform gives you easy to use Learning Management with over 40 courses included. Plus add Recruitment and Staffing Manager tools as well, plus documents, policies and employee self service.
Qintil is trusted by thousands of care workers and their employers and we provide free 24/7 5 star support to help you and your team.
Qintil: Learning, Recruitment and Staffing Manager Product Overview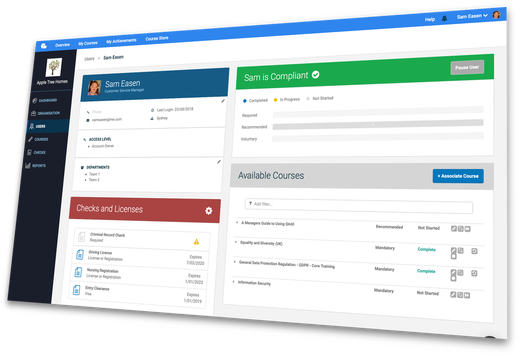 Qintil is the only platform that helps social care workers manage their learning, shifts, work and documents in one place. Our platform provides three core solutions that can be used individually or together to provide flexible but comprehensive learning, recruitment and workforce management tools for any social care provider.
Learning Manager: Deliver and manage online, classroom and virtual training. get over 40 courses for basic training and choose from thousands more or build your own with our easy to use Course Manager. Know who's up to date and compliant instantly and who needs help. Your team will love how easy it is to stay on top of their learning.
Recruitment Manager: An easy to use applicant tracking and compliance too to help you recruit and onboard your new hires and then keep up to date with their compliance and right to work docs.
Staffing Manager: Manage your roster, check for gaps, match staff based on availability and suitability and hire agency staff, manage timesheets and pay.
Mobile app for your staff: Your team can see and manage their learning on a computer, tablet or mobile phone. They can also apply for your jobs and see their shifts and timesheets if you're using Recruitment or Staffing Manager.  
"Qintil support was fantastic!"
"The best and easiest to use LMS I've worked with"
"Qintil's Video Classroom has way more features than Teams"
"Excellent support"
"Great service very quick response"
"Fast reply, helped me solve query quickly. Thanks"
"Thanks for your prompt service, especially on a weekend."
"Really happy with the help I received, thank you"
"Great service replied almost instantly very impressed"
Indicative Costs
Our pricing starts from £2.99 per user with free setup and training for your team.