Company Overview
Person Centred Software was started in 2013 with the objective of helping to improve the quality of life for people in social care. With an ageing population and large-scale recruitment challenges, this is one of the burning issues of our time and improvement cannot happen quickly enough. With over 20 years' experience developing technology for the care sector we know passion creates the best opportunity for real change – and the founders continue to stay at the helm of the business to help drive digital development in the sector. Our company has become an award-winning global company launching in Australia in 2018 and Ireland in 2019. Amongst numerous industry awards Person Centred Software was also placed on the Sunday Times Tech Track 100 and top 10 SME in Digital Leaders 100 in 2020 and Deloitte Tech Fast 50 list in 2019. In addition our new coronavirus-specific features were recognised at the Health Tech Digital Awards 2020 for Best COVID-19 Software Solution.
Product Overview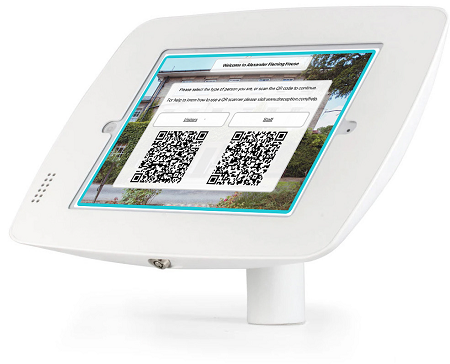 Digital Reception is our front of house, hands free and GDPR compliant Reception System for all types of visitors to your home. The system includes the option to scan the Covid Vaccination Status and record a visitors, or a staff members, Lateral Flow Test details upon arrival. Digital Reception links to your PCS Care Plans to auto populate a Visitor arrival and departure within the Resident's Care Notes. Other features of Digital Reception include:
• Touch-free, secure operation using QR Codes
• Integrated with Mobile Care Monitoring
• Digital Reception offers a platform to tailor the experience for your visitor
• COVID Vaccination Status check and editable COVID questions
• Role specific access levels to the DR Dashboard
• Automatic Feedback alerts received instantly
• Reports downloadable to Excel
• No additional cost for a home to use multiple devices
• Ability to gather and analyse visit feedback.
Indicative Costs
This highly configurable system is available for £39.00 inc Vat per home per month. Customer set up is supported by an easy-to-follow video or we can arrange a session with our Trainer at the cost of £50.00 inc Vat per home. No long-term contract is applied, basic 30-day rolling agreement. Any tablet can be used for Digital Reception, Apple or Android.
Product Videos