Company Overview
PainChek® is the world's first regulatory cleared medical device for the assessment of pain, enabling best-practice pain management for people living with pain in any environment, including those who cannot reliably self-report their pain, those who can, and those who fluctuate between the two. PainChek® is currently being used in over 1,500 aged care facilities, with more than one million digital pain assessments conducted to date, and is trusted by thousands of nurses, carers and clinicians. For more information, please visit https://painchek.com/
Product Overview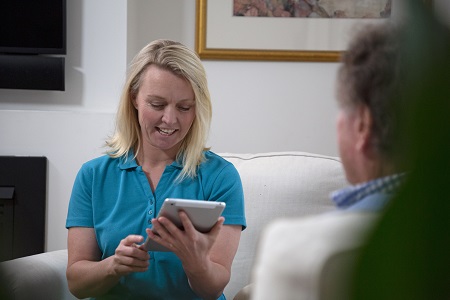 PainChek® is the world's first regulatory cleared medical device for the assessment of pain, enabling best-practice pain management for people living with pain in any environment, including those who cannot reliably self-report their pain, those who can, and those who fluctuate between the two. The PainChek® app combines PainChek's AI pain assessment tool, which intelligently automates the multidimensional pain assessment process, with the Numerical Rating Scale (NRS). This hybrid functionality allows accurate, consistent pain assessment at the point of care, whether a resident or patient can or cannot self-report their pain.
How PainChek®'s pain assessment process works With PainChek®, assessors use their camera-enabled smartphone or tablet to allow automated facial recognition and analysis of a person's facial expressions. PainChek®'s AI tool conducts a real-time analysis of the person's face, recording the presence of certain microexpressions proven to be indicators of pain. The assessor's clinical observations are recorded through an intelligently automated framework, standardising the observation format. This data is used to generate an overall pain rating – the key clinical output of the PainChek® assessment. Where the NRS assessment is used, PainChek® guides the assessor to ask a standardised question, quantifying the level of pain being experienced, and if relevant, the location of pain.
PainChek® Analytics: Informing best-practice pain management All pain assessment data is stored securely and centrally via the cloud, and documented in PainChek®'s detailed reporting suite, PainChek® Analytics. This allows the caregiver to monitor the effect of medication and other nonpharmacological treatments over time.
Indicative Costs
£3.00 per resident per month. Excludes VAT. Discounts apply to charities, integration partners, and select care associations. Contact PainChek to discuss this in more detail.
CPD-accredited training is available at an additional cost of £600. Discounts are also applied to training.
Product Videos