Company Overview
OnCare's care management platform contains everything a domiciliary care provider might need to
manage care planning, delivery, assessments and finance. We're different from other software providers in two main ways:
1) We keep our prices at an affordable level; and
2) We've designed the platform to be incredibly easy to use, even for non-technical people
Product Overview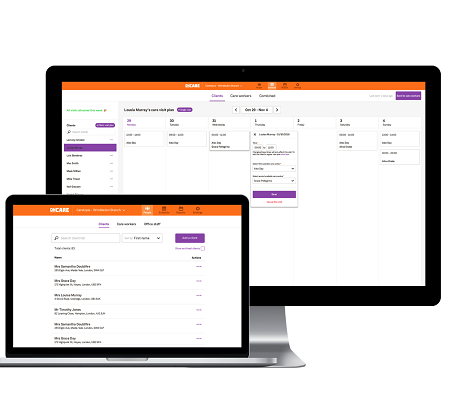 OnCare contains everything a domiciliary care provider needs to manage end-to-end care delivery in one easy-to-use platform:
1) People management for your office staff, clients and care workers
2) Call monitoring with location capture
3) Medication management
4) Scheduling and rostering
5) Alerts
6) Reporting
7) Finance including payroll, invoicing and mileage reports
We believe that care providers should only need to purchase one system to handle their needs, and that system should be affordable and intuitive.
Indicative Costs
We have just one set monthly price, there are no other hidden fees (set-up, training, updates, support). Everything is included in the one price.
Furthermore, we don't tie our customers into long contracts, just rolling month-to-month; pricing level will not change at all within the first 12 months; and we give 1% of everything we earn to The Care Worker's Charity as our way of giving back to the sector.
Our latest prices can always be found at: price list
As of 2021, these are:
For care agencies with 0-10 care workers: £99+VAT per month
For care agencies with 11-50 care workers:
£199+VAT per month
For care agencies with 51+ care workers, please contact us to agree a scaled price that works for you.
Product Videos