Company Overview
MiiCare is the AI-powered preventative care platform guiding families and caregivers to maximise longevity for older adults at home with our user-centred IoT technology and digital health coach, Monica.
MiiCare is a preventative, AI-powered healthcare platform to help families and healthcare organizations holistically evaluate, plan, and optimally drive positive health impact with older adults and those with chronic conditions. Unlike reactionary, segmented, or inaccessible healthtech, our integrated, human-centred solution has been designed with older users directly, embraced by the NHS, and enables hassle-free, personally-targeted digital therapeutics and behaviour change to help prevent poor quality sleep, the onset of diabetes, falls and frailty, UTIs, and more from the comfort of home.
Product Overview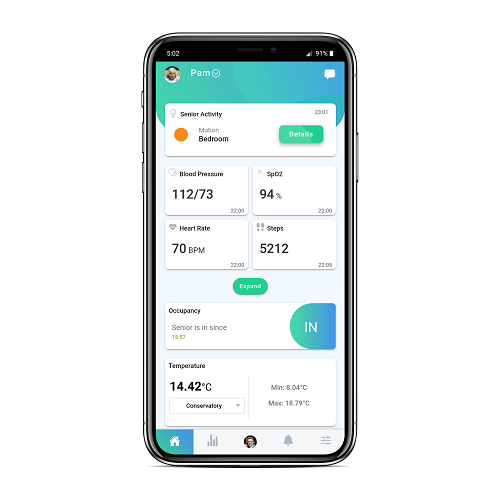 MiiCare has developed an ambient IoT assisted-living solution called MiiCube that utilizes wireless sensors and devices to monitor daily activities and vitals of older adults, and above all, act as a companion to address loneliness and keep them more connected to their families and friends. Monica is the AI-based digital health coach and virtual assistant that enables our technology to adapt to the changing needs of users without requiring wearables like the SOS pendants of yesteryear (generally considered unsuitable for People Living with Dementia/PLwD). Instead, our solution promotes active aging by monitoring and encouraging healthy activity, hydration, and medicine habits, and kindly steps in to remind on time or prevent incorrectly taking medicine when needed. Monica welcomes and logs visitors, provides entertainment, and augments the lives of not only older adults but also those who look after them. AI insights and health data are presented on our mobile and web apps for family and caregivers to stay up to date with the older adult's health, and best plan and coordinate effective care with built-in validation that it is working, with the support of Monica at home.
For families: Caring for an older adult can be challenging as it often requires one to wear many hats. It is often an older person's wish to stay in their own homes for as long as possible, but as they age this can become more and more difficult. Even though it can be very rewarding to make life better for a loved one, the dependency and lack of support can be exhausting. MiiCare can provide the valuable awareness and guidance you need to best care for your loved one, as well as keep up medicine, hydration, and activity habits at home for you with the encouragement of Monica, our virtual health coach. Prevent costly emergencies and worry by staying up-to-date on just what an older loved one needs. Turn urgent check-ins or uncertainty into confidence and effective action to keep them happy and healthy at home.
For care homes: With the ever-increasing demand and stress placed on Care staff, MiiCare is able to give you a helping hand. We don't look to replace the care you provide, instead, MiiCare acts as an aid to help you improve efficiency and quality so your caregivers can do what they do best! Whether it's reducing frequent false call alarms, giving you the awareness to prioritize care requirements more effectively, or using MiiCare data to help with risk registers, MiiCare offers a solution bespoke to your care home needs, that keeps relatives in the loop.
For care agencies: MiiCare supports your customers' care plans out of hours. When your team's not there, Monica can help support older adults' adherence to their care plan, whether that's reminding them to take their vital readings, medicine, hydration, or to stay active. Our data-rich dashboard allows Domiciliary Care providers to understand what's happened in the absence of a caregiver while providing an incredible value add to family members who want added peace of mind.
About us: Following the tragic loss of his grandmother due to a fall at home, Kelvin Summoogum founded MiiCare and devoted his life to preventing such a thing from happening to others. Kelvin's grandmother lived alone at home and like most older people, she resented the idea of moving to a care home. Instead, she wanted to spend the rest of her life in her house – her place of heritage for which she and her husband worked all their life. Sadly, one evening she fell, broke her hip, and stayed on the cold floor in pain and agony for many hours before she received help. She succumbed to her injuries 3 years later. Caring for her during those 3 years was extremely difficult. After his grandmother passed away, Kelvin made a personal commitment to find a solution to mitigate the risk of falls and protect those living alone at home. He spent over a year working closely with a group of older people from lunch clubs and churches to understand the pain points and then worked backward towards a solution – MiiCube, the AI-based assistive technology. While there are devices that attempt to address the same older people healthcare crisis, Kelvin spent time researching the market to understand why current solutions were not gaining sufficient traction. This is where he learned that he needed to develop something which is 'person-centred', is simple to use, and adapts to the older users and not the other way 'round; something which interacts with them as a companion. This approach underpins all the innovations taking place at MiiCare.

Indicative Costs
Our wellbeing pack pricing at £296.00 and £30pm subscription. However, our Public Sector, Care Home, and Domiciliary Care price offering is completely bespoke and at a reduced rate.