Company Overview
Medequip Connect is a Technology Enabled Care and Behavioural Monitoring service provider. We currently support over 10,000 Service Users across the UK and work with Local Authorities and Care Providers to introduce new technologies that recognise significant benefits for communities. We provide innovative behaviour monitoring technology to enable early intervention decisions, improve quality of care and pass on significant savings. Everything we do is centred around helping to keep people safe, increase their independence and giving people the confidence to go about their daily lives. Our range of services includes:
24/7 behaviour monitoring
Falls prevention
Wellbeing support
Emergency response (subject to location)
Analogue to Digital transition support
Procurement, installation, maintenance and recycling of TEC equipment
Product Overview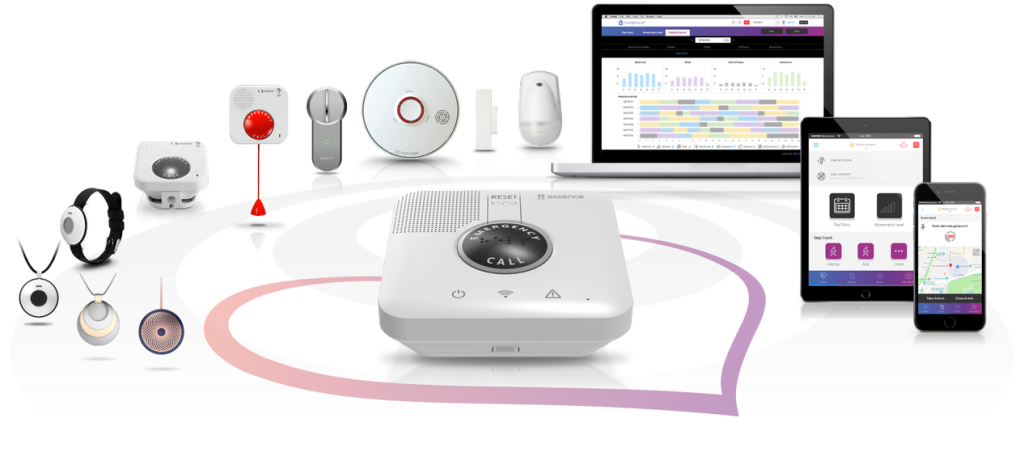 Care@Home™ enables families to be confident that their loved ones are cared for, while end-users are enabled to maintain their independent lifestyle. The Care@Home Multi-Service Platform is an Aging-in-Place product suite that offers seamless home care monitoring indoors and outdoors, allowing independence for seniors and peace of mind to their loved ones.
Care@Home is a modular system, consisting of a base unit that connects to peripheral devices around the home. A wide range of peripheral devices are available including IoT sensors, Telecare and Telehealth equipment allowing for a tailored solution that is right for each Service User. The connected system feeds into a Data Aggregation Platform that uses AI to generate easy-to-use dashboards that paint a holistic picture of a Service User's profile enabling an individual's support network to respond to alerts, virtually check-in on the individual and identify changing behaviour to enable early intervention decisions.
Indicative Costs
Care@Home is a modular system where you can build a bespoke setup that's right for each individual. You can either make a one-off purchase followed by a small recurring behaviour monitoring fee or purchase via a recurring lease.
Recently a Care Home placed an order. Due to the proximity of the apartments to each other they were able to order only one base unit, which when placed in a central location, connected to peripherals across all the apartments.
Weekly lease prices as follows for individual units excluding VAT. Discounts available for larger orders. Unit:
Care@Home Base Unit, Pendant, App & Dashboards – £4.22
Peripherals:
Voice Panic Detector / Extender – £1.19 Door
Sensor – £0.58 PIR Motion Sensor – £0.67
Automatic Fall Detector – £1.87
C02 Monitor – £1.24
Smoke Detector – £0.94
Flood Detector – £0.63
Eneuresis Sensor – £2.05
Epilepsy Sensor – £5.78
Chair Sensor & Transmitter – £1.68
Bed Sensor & Transmitter – £1.68
Jewellery Emergency Pendant – £1.44
Jewellery Emergency Pendant with Falls Detection – £1.44
Product Videos