Company Overview
Founded in 2017 by Sam Hussain in response to the growing pressure on the UK care sector, Log my Care is the platform for outstanding care management. Our mission is to make person-centred technology accessible to everyone in social care by eliminating the need for paper records, saving time and improving the quality-of-care delivery. Log my Care gathers insights to help care providers allocate resources and speed up day-to-day tasks so they can focus on the people they support. Our Starter Plan is free to use, allowing every care provider to access the tools they need to go digital. With the vision of changing care from reactive to predictive, Log my Care is transforming care for society's most vulnerable people. Designed alongside support workers and service users, Log my Care is the platform of choice for enriching the lives of everyone in care. We support:
Domiciliary care organisations
Learning disability organisations
Nursing homes
Residential care organisations
Supported living organisations
Other services
Product Overview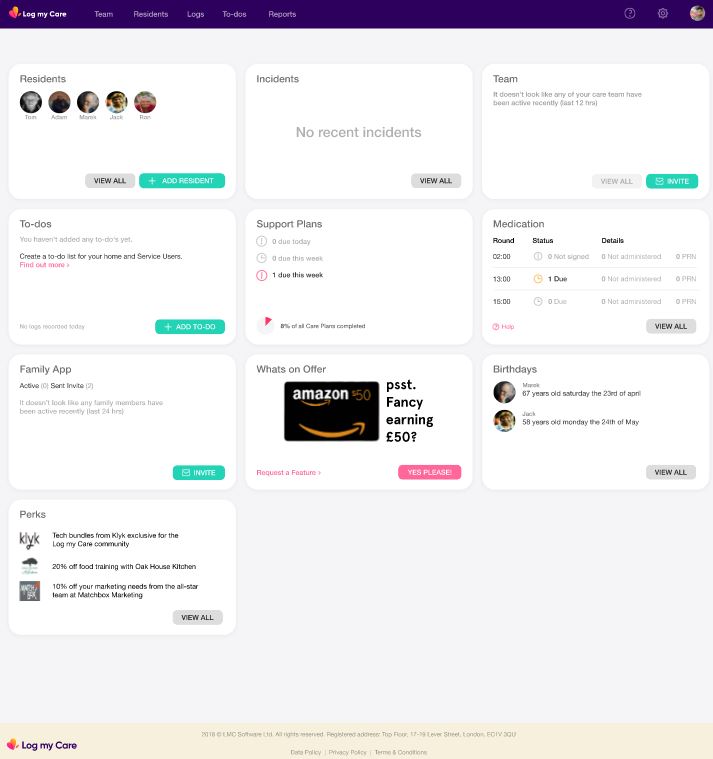 Log my Care is a digital care management made simple. We give care providers the technology to provide outstanding care, through an:
Online dashboard for managers – The Care Office is your control centre giving you a real-time overview of what's happening in your service, wherever you are. From here, you can add team members and clients, assign tasks, access reports, upload documents and more.
App for carers and support workers – Our Carer App allows your team to record the care they deliver on the go. They can access personal to-do lists populated with tasks you assign them, create logs, view handovers, see important client information and more.
All of our features are designed alongside support workers to improve the experience of care for everybody involved, from care delivery and service efficiency to keeping families and friends in the loop.
For care delivery – Get all the tools you need to effectively deliver and record care, from clear care and support plans that put every client at the heart of decision making, to daily task lists that can be checked off on the go. Features include:
Body maps
Care and support plans
Consent management, including digital signatures
COVID monitoring
Electronic logs
Emergency admission packs (hospital passports)
Handovers
Incident management
Initial assessments
Medication administration (eMAR)
Photos
Risk assessments
Tasks
Witnessing For service efficiency – Improve the day-to-day management of your service, gain valuable insights from reports and charts, be alerted to incidents as soon as they're logged, and more!
Features include:
Alerts and notifications
Client management
Multi-site working
Offline working
Policy, procedure and document storage
Read receipts
Reminders and scheduling
Reports and charts
Team management
Templates
Time stamps
Version history For updating family and friends
Keep relatives and close friends updated about their loved one's care, wellbeing and health, in real-time. All you need to do is give individuals access to our Family Portal, a personalised timeline that automatically updates from your logs and photos, to show what care has been delivered. Fully customisable, you can choose what information is shared, from the types of logs shown to toggling on and off specific features. You can also choose to give access to care and support plans, risk assessments, medication charts and other documents, for full transparency.
Setup and support – We know you don't have the time for lengthy training sessions and away days, so we've designed our platform alongside carers to make it intuitive and easy-to-use from day one. If you do need any help along the way, you can access our 24/7 online support hub, filled to the brim with step-by-step guides, videos and frequently asked questions. We also don't charge anything to get you set up!
Indicative Costs
Our Starter Plan is free (everything care providers need to go paperless) and includes:
Client management
COVID monitoring
Electronic logs
Incident management
Tasks Team management
Time stamps
Reports and charts
Reminders and scheduling
Witnessing
Self-service support hub
Our Pro Plan starts at £5.83* / month per active service user + VAT (for 50 service users billed annually) and includes all the goodness of a Starter Plan plus:
Alerts and notifications Body maps
Care and support plans
Consent management
Digital signatures
Emergency admission packs
Handovers
Read receipts
Initial assessments
Offline working
Photos
Policy, procedure and document storage
Risk assessments
Templates
Version history
Zoning 24/7 live support
We also offer a Group Plan for services who manage multiple sites – contact us for a bespoke quote. This includes all the greatness of Pro plus:
Additional access levels
Performance comparisons
Site activation and inactivation
Site reports
Switch between sites from one dashboard
Transfer clients between sites