Company Overview
InvictIQ is a leading Care Sector Transformation Services and Technology Solutions Company. We help Care Homes, Home Care providers and GP Service businesses maximise their ability to provide "more care" and best services to their communities and employees, using technology and data strategically which save TIME and optimise cost.
With the mission to help Health and Social Care Providers free up time for more Care using Smart Technology and Integrated Data, InvictIQ has launched two products – audIT On Cloud and Druva One View. audIT On Cloud is an easy-to-use, one-stop solution for managing all your audit, inspection and complaints, making your Care businesses compliance ready always! This software is purpose-built for Social Care and comes with power-packed features and benefits which enables Care Providers take complete control of their inspection and audit management with a centralised source of truth and automated workflows.
Druva One View makes Social Care analytics easy and helps unlock the full value of your data for better business decisions. This product turns data from your current multiple disjoint systems into single source of insight. Druva – One View connects your multiple data sources and brings business metrices together helping you to continuously improve your Care business.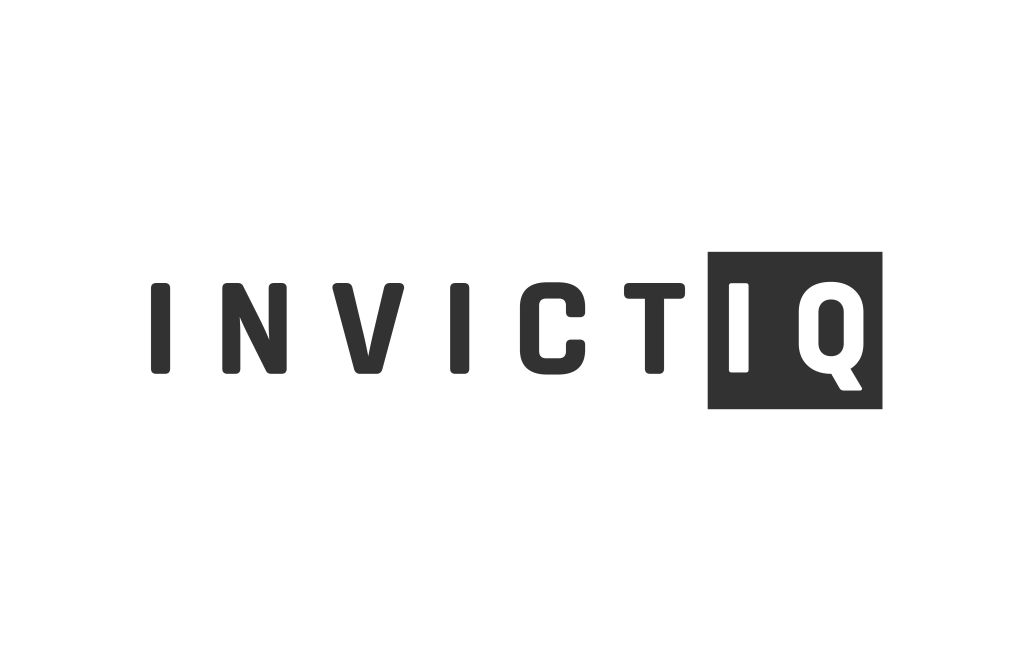 ---
Contact
Sangha Chakravarty
---
07794 159222
---
schakravarty@invictiq.com
---
Product Overview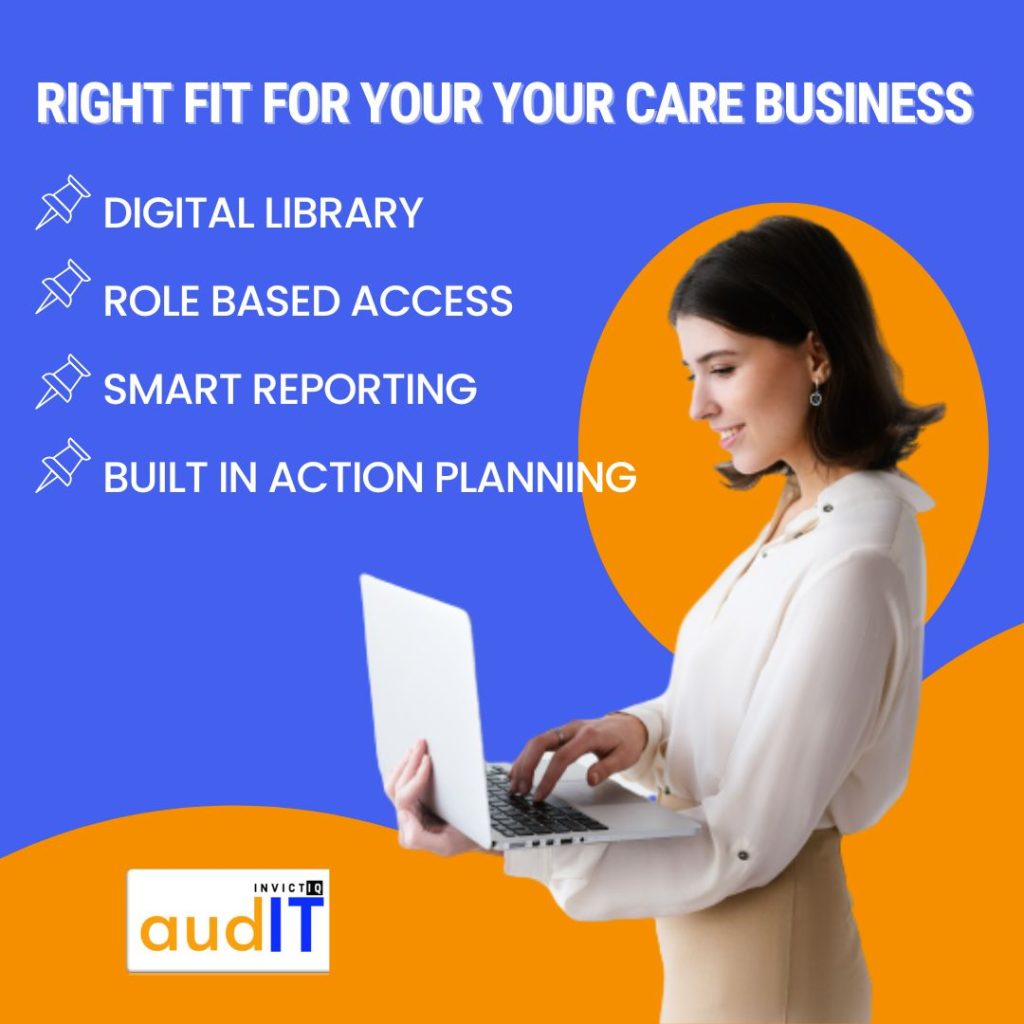 audIT On Cloud is for Care Organisations, conducting some or all their audits on paper or spreadsheets, with manual collation and reporting. Businesses which are looking to adopt and better align their audits to regulatory benchmarking standards, including Single Assessment Framework, but above all to become more efficient.
While managing audit and inspection procedures can be time-consuming and tedious especially when they are scattered in paper copies, spreadsheets and emails, audIT On Cloud offers the opportunity to both improve the quality of audit and to add value to it. Through automated notifications, one-click reporting, and a powerful dashboard that identifies action areas accurately in real-time, audIT On Cloud will assist in streamlining your audit/inspection recording and quality management processes.
Let this secure digital cloud-based solution help you transition your inspections from being a reactive exercise to a proactive one, which is predictive and real-time!
Key Features:
• Digital Template Library
• Role-based
• Access with Single Sign-On
• Workflow Automation with auto scheduling and notifications
• Built-In Action Planning and Evidencing
• One-click Reporting
•Dashboard and Analytics
Benefits include:
• Reduced Time Planning & Reporting
• Supports Remote Working; Connects Teams working on Continuous Improvement
• End-to-end Workflow Tracking
• Avoids Duplication
• Easy, secure Report Sharing with External Stakeholders ….and more!
Easy 1-2-3 Implementation – set up time is only a few hours with the InvictIQ Team to help you at every step!
Indicative Costs
This product is suitable for all types and sizes of Care providers. Attractive offers available for SMEs.
Price dependent on features and license use, available on request.
No implementation cost Complete handholding and training provided for technology adoption.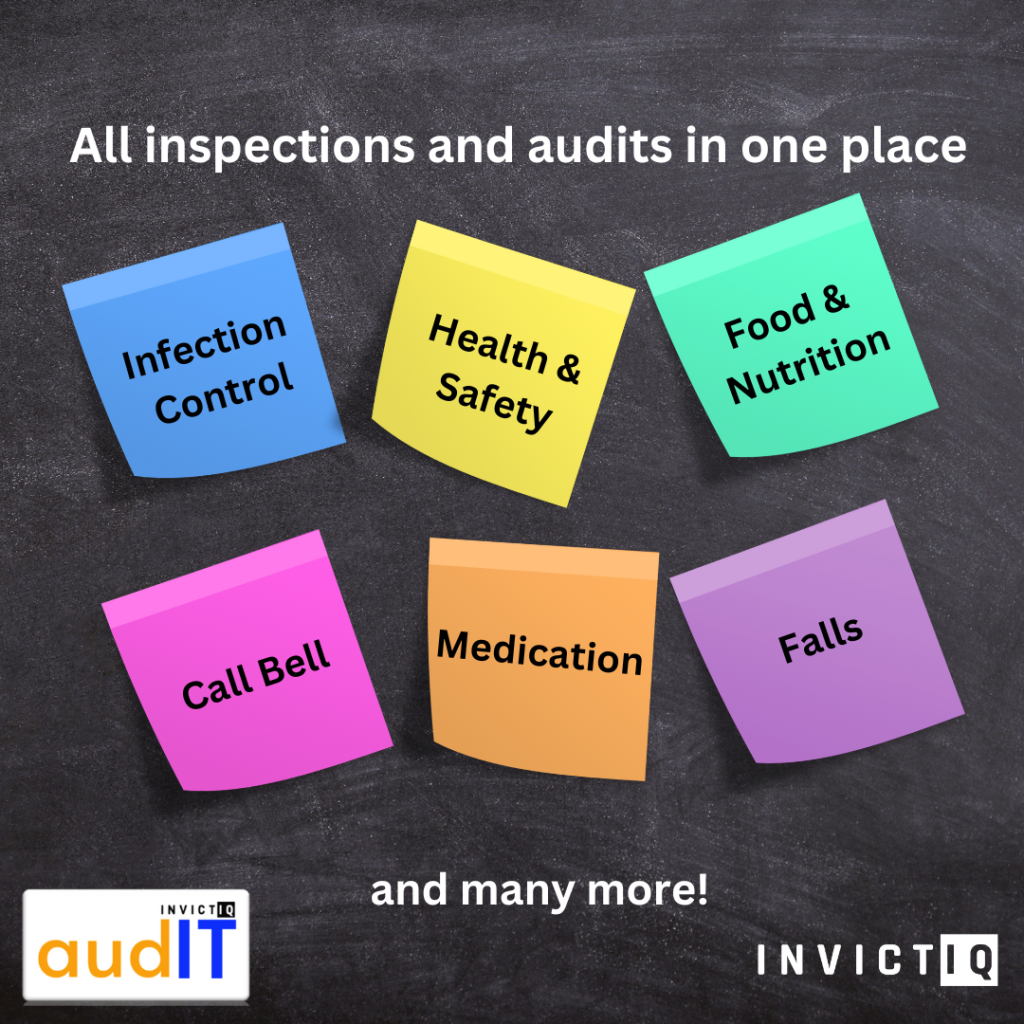 Product Videos