Company Overview
Founded in 2014, everyLIFE Technologies has grown to become a market-leading SaaS Digital Care Management solution provider for the Health and Social Care sector. We are:
• The only provider offering a solution across both the residential and domiciliary sectors from one common software platform
• Proponents of open architecture design principles to facilitate current and future interoperability requirements
• Early adopters of the Professional Record Standards Body (PRSB) Vendor Quality Standards Membership Scheme, established to create consistent standards for care records (www.theprsb.org)
We have our own in-house:
• Engineering team
• UK-based 24/7 multi-channel customer service and support
Also:
• Our CEO is Co-Founder and Board Director of the Care Software Providers Association (CASPA) (www.caspa.care)
• Our Chief Information and Compliance Officer sits on the board of INTEROPen, the action group formed to accelerate the development of open standards for interoperability in the Health and Social Care Sector (www.interopen.org)
everyLIFE has experienced well managed growth over recent years, and now employs more than 60 people. We have clear, shared values that help to ensure that all employees are working towards the same vision: outstanding care provided by a connected and empowered global care community.
We are extremely proud to have been the first supplier in the industry to achieve Full Rollout Approval (FRA) from NHS Digital for Access Record: HTML, making patient GP information available to social care clinicians from within PASS, when and where they need it to support direct patient care. This is just one example of how everyLIFE is leading the way in digital transformation in the social care sector, facilitating more joined up Health and Social Care and enabling improvements in both care delivery and outcomes.

---
Contact
Natalie Rigby
---
03300 940118
---
natalie.rigby@everylifetechnologies.com
---
Product Overview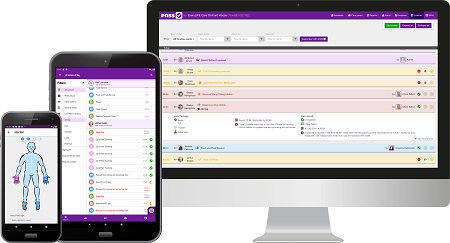 PASS is our digital care management platform. It has been designed to manage, sustain and evidence person-centred care. Offered as a cloud-based Software as a Service (SaaS), PASS provides comprehensive real-time functionality, built on proven technology platforms and architected to ensure availability, reliability and accessibility. It is currently used by over 1,000 care providers to:
• Create personalised care packages for their service users
• Record the delivery of care
• Manage assessments and observations
• Monitor progress against outcomes.
It provides an assurance tool to care providers, commissioners and regulators that demonstrates the level and quality of care being delivered. A consented, GDPR-compliant shared view of care is enabled through openPASS, our portal for families, social workers and allied care professionals. PASS operates in alignment with CQC inspection requirements, and enables high-quality person-centred care. Security, which is critically important when dealing with sensitive personal data, has informed both the development of PASS, and the organisational measures everyLIFE has implemented in delivering their solution.
Alongside our technical solution we have developed a suite of professional services, available both during and after implementation, to ensure that our customers realise and sustain the anticipated benefits of PASS. The Social Care Institute for Excellence (SCIE) undertook an independent review of PASS and highlighted a broad range of benefits including:
• Delivering better quality care
• Increased accountability
•            Realising operational efficiencies
•            Improved risk management
Indicative Costs
Our pricing model considers a number of factors:
• Type of care setting – domiciliary, residential, supported living, complex care, etc
• Number of PASS offices
• Number of service users (care receivers)
• Whether any integrations are required
• Reporting requirements
The elements included in a total solution price include:
• A monthly software service fee (usually based on number of service users. Includes software updates, 24/7 support, reporting, openPASS portal for family, friends & care professionals)
• An upfront implementation fee (usually charged per office, which includes system set up, project management, standard integrations and training)
• One off charge, such as other integrations, data analysis and bespoke reporting
The following provides price ranges for the various elements of the PASS solution. Final pricing is subject to specification.
• Monthly service fee: £4-12 per service user (licensing, updates, support, openPASS for family & friends, account management)
• Implementation: from £200 per PASS office (planning, training, project management, PASS office set up, integration – existing)
• Bespoke professional services: POA (eg, data analysis, new integrations, bespoke reporting)