Company Overview
Connexin Health forms part of Connexin, a technology business based in Hull that specialises in building wireless infrastructure and networks that connect cities and places.
Connexin built the UK's first carrier-grade LoRaWAN network in Hull as well as procuring the UK's first dedicated Smart City platform for Hull City Council, providing a completely end-to-end IoT solution for the public sector. Connexin is an award-winning provider, which includes IoT Breakthrough Award for Smart City Deployment of the Year in 2018 for their "UK's Smartest Street" concept in Newcastle.
Connexin has recently secured £80 million investment to scale-up operations and now employs circa 70 members of staff. Connexin is building capability and capacity in the deployment of smart solutions. Connexin recently deployed the cities new smart city digital screens in Hull's Paragon Interchange, the transport interchange providing rail, bus and coach services located in the city centre providing real-time updates on bus arrival and departure times using smart technology.
Connexin Health is a new part to the business aiming to bring the experience of building smart cities and connectivity to the health and adult social care sector.
Co-Founder and CEO, Furqan Alamgir, is a trained doctor and all members of his direct family practice in health, either as GPs or hospital consultants. With this pedigree, he understands, only too well, the challenges and pressures in these sectors.
His ambition now is to help build smart care homes, smart hospitals and support and prolong independent living, using smart technology by bringing together the best devices, sensors and detectors to a proven integrated platform. This will provide real-time data and insight into different operational areas, to give care providers the tools to measure, monitor and drive performance for the benefit of service users and those responsible for service delivery. The platform can be used to link sensors and devices that can trigger alerts and prompts for carers, as well as providing dashboard reporting on the information transmitted to the platform e.g. falls, motion detectors, weight, activity, medication administration etc.
Connexin Health is an end-to-end solution provider deploying new technologies and data platforms to support smarter solutions to service delivery.


Product Overview
Connexin Health offer several solutions to support the adult social care sector and individuals with assisted-living options for fall detectors.
The different options available include a pendant that can be worn around the neck and a panic band worn on the wrist that can be activated by voice command, or through an in-built accelerometer.
By using state of the art Machine Learning, built at the edge of the fall pendant, we've developed an accuracy of up to 96% in detecting hard falls. The fall can then alert a carer, who can assist immediately. The carer can also call the patient through the fall sensor to reassure them and let them know help is on the way. This allows for immediate response to see how the patient is doing and therefore improving care outcomes as well as reducing false positives. For those living independently, the pendant can provide immediate access to a designated helpline as part of a package offering 24 hours per day/7 days a week support and acts as first responder to any alerts.
Connexin also supplies sensor pads that can be used in beds or chairs as fall prevention solutions. This solution is recommended for individuals who are at risk of being non-compliant for remaining non-weight bearing or immobile. These high-risk individuals are those likely to fall due to previous history and serious mobility issues. When placing these sensors in the bed or on the chair and the pressure is released e.g. the individual leaves the bed or chair, an alert will be sent to the nursing station or carer. Deploying these solutions can prevent serious injury through early response, on alert, to assist the individual back to the bed or chair.
Benefits
Early response to carers to ensure early assistance
Ideal for everyday independent living or multi-occupancy dwellings
Provide assurance to those at risk of falls, carers and loved ones
Prevent suffering and delays for those who fall
Support independence
Reduce false positive and therefore strains on carers
Indicative costs
These products vary in price and range from circa £125 each for the pendant (which includes voice/call feature) as a standalone product. For this to be integrated to the platform, additional costs are incurred. This provides information on all falls for data analytics and trends etc.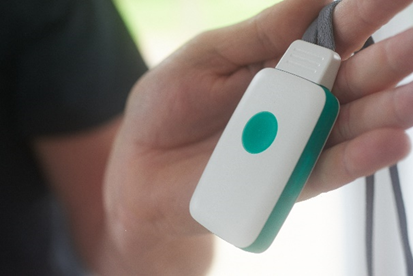 Product Videos