Company Overview
Buddi is a well-established and highly experienced technology organisation and our range of Health products actively support and prolong independent living for vulnerable people. We work with 100+ local authorities and care providers across the UK who use our technology to enhance the lives of those living with long term health needs eg. dementia, falls risk, learning disabilities, mental health etc. All Buddi's devices are designed for absolute simplicity and to be used without face-to-face training. Our UK based Customer Services Team are available 24/7 x 365 days a year, and our dedicated Account Managers ensure commissioned services are delivered effectively and efficiently.
Buddi Connect and Clip – Product Overview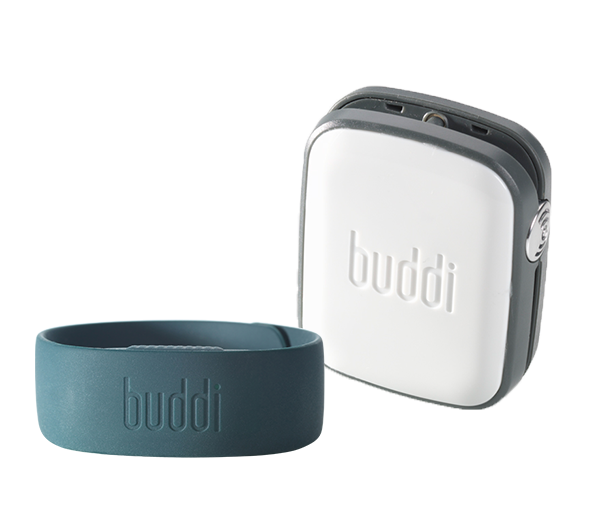 • Automated Fall Detector – The wristband houses an accelerometer, which will automatically trigger a fall alert when it detects an impact (hard) fall by the client. It measures speed and motion, and will also trigger a fall alert when shaken vigorously. Fall alerts activate a two-way audio call from the Clip to the ARC when triggered.
• Panic Button Alert – Press and hold the 2 panic alert buttons simultaneously for a few seconds to trigger an alert (call for help). Once triggered, the clip initiates a two-way audio call to the ARC, where an operator can talk to the client through the clip and then notify the designated alert contacts of the alert details and location. The clip is ideal for clients who are active both at home and in community.
• GPS Location data – GPS location updates every few minutes, providing accurate location within approximately 5 metres when outdoors.
• Historical GPS data – By finding its location every few minutes, it provides a location trail for where that client has been. All this data can be reviewed via our secure web portal.
• Safe/Unsafe Zones –Zones can be tailored to meet client needs and support those living with cognitive conditions, like dementia or learning difficulties, with alerts triggering when exited (safe zone) or entered (unsafe zone).
• Secure Web Portal & Smartphone App – allows secure remote access from any online device to set up, manage and review your buddi devices. A smartphone app is also available to provide last known location data and ideal to provide reassurance for family, friends, or carers.
• Alert Monitoring – all fall, panic button and zone alerts are monitored 24/7 x 365 days by a TSA gold standard accredited Alarm Receiving Centre (ARC).
• Health risks – The Connect wristband is ideal for those with reduced mobility, who are at risk of falling or have health conditions that could cause wearer to collapse and be unable to raise an alert (Diabetic Hypo or Epilepsy). Other organisations are using this Buddi product to support epilepsy clients, as the wristband can pick up on convulsion type seizures (vigorous shaking).
• Poor finger dexterity – If the client lacks the dexterity to press the panic button simultaneously, they can shake the wristband to generate an alert.
FALLS CASE STUDY: P has epilepsy and lives in accommodation with minimal on-site support. P has 24/7 access to the community and often goes out to see friends who live locally. As there are no staff available to monitor pager-linked devices, the option of linking an existing epilepsy/falls detector device to a call monitoring service was considered. However, the occupational therapist (OT) determined that the risks presented by seizures at home were minimal and that 24/7 was no longer needed. When out with friends, it was also determined to be a minimal risk, as P's friends would be able to assist if needed. However, there was still a risk of P experiencing a seizure when out in the community unsupervised, for example when travelling to and from meeting with friends. This was the issue that needed to be resolved. According to P, there is a short period of time prior to going into a tonic-clonic seizure, when they know that the seizure is going to occur. P stated that they may be able to press an alarm button during this time, but this was not certain. The OT further stated that P's epilepsy profile indicated that they would be likely to collapse when going into a tonic-clonic seizure. Provision of a version of an epilepsy seizure monitor that could be linked to a mobile phone was considered, as well as a Buddi device with falls detector. Discussion took place between P, the OT and the assistive technology co-ordinator regarding which device was likely to be the most appropriate. The Buddi solution was explained and its functionality demonstrated. P has a good insight into the risks presented by their epilepsy and felt that they would be able to use the Buddi's "panic button" feature to call for help if needed. However, if P was unable activate this feature before going into a tonic-clonic seizure, then the likely subsequent collapse may be detected by the falls detector bracelet and an alert raised, allowing support staff to locate and assist them. The OT also identified that P could use the Buddi device at home, as well as when away from the home, instead of being set up with a separate community alarm service. It was made clear to both P and the OT that the Buddi and associated falls detector are not designed to specifically identify tonic-clonic seizures. Also that the device is not waterproof and cannot be used in the shower. Despite this, both the OT and P opted to utilise the Buddi device with the falls detector (in preference to an epilepsy monitor linked to a mobile phone) due to the Buddi's ease of use, falls/collapse detection, "panic button" features and the established reliability of the device and associated monitoring service. P is able to easily charge the device and capable of reporting if there are any problems, such as breakages or lost parts. P is also encouraged to periodically test the device. At P's request, an agreement was drafted that staff would not utilise the device to locate P unless the falls detector was activated or the "panic buttons" were utilised. Case Study kindly provided by the Community and Independence Service, London Borough of Hammersmith and Fulham.
Indicative Costs
Purchase of Clip and Connect @ £249 plus annual membership @ £300 (all plus VAT)
Product Videos